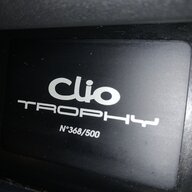 Joined

Jan 27, 2012
Messages

119
Reaction score

21
Location
Trophy No.
Hi all,
I am sure a lot of you will remember my Black Gold 182 which I converted to full Trophy spec, for which I did a build thread on here...
http://www.cliotrophy.co.uk/threads/ashers-oem-bg-trophy-project.53018/
Anyway, as you can imagine I missed it like crazy, so set about looking for another 182. So I ended up buying a Liquid Yellow one back at the beginning of September.
Obviously it is not a Trophy, but I know and have met a fair few people from this forum, so just wanted to document the progress and changes to the car like I did with my Black Gold one. Hopefully everybody finds this ok.
So, here is the spec and modifications list as I bought it...
Recaro seats
RS Tuner 98-RON Map
Cooksport springs
Cup packs retrofitted (including hubs etc as it was not originally equipped with all Cup packs)
Sat Nav
Yozzasport exhaust
Powerflex bushes throughout
Black alcantara headlining
Alcantara pillars, trim pieces and handbrake surround
Snappy steering wheel with yellow 12 'o' clock band
Snappy gear gaitor with yellow stitching
Dials and switches changed to blue LED's
Extended heel and toe accelerator pedal
Inlet manifold and rocker cover painted in crackle black
SprayShack engine cover in Liquid Yellow
Trophy/V6 rear spoiler
Minor exterior mods (3/4 front plate, new style RS rear badge)
Paint is pretty much mint bar a few stone chips on the bonnet.
Few pictures when I got it back home on the drive...




In the first week of ownership, went to drive home from work one night and it wouldn't start. I feared the worst, but luckily it was just a dead battery, so a new one was fitted and everything was fine again.
The only problems I found in the first couple of weeks was a knock from the front somewhere, and three warning lights showing up most of the time (Traction control, Service, ABS). I had the car booked in with Mike at Rentech, and he fitted a new pair of good quality ball joints, sorted out the tracking, fitted a new brake pedal switch (this was faulty hence the warning lights being on) and re-gassed the air conditioning. Got it back and car drives good as new again so was very happy.
Whenever I went to put shopping in the back I had to hold the tailgate up with my head as the struts were not working at all. I had enough of looking like an idiot in the car park so ordered these...

These are bonnet struts from a 1 Series BMW which are the exact same as the rear struts on a Trophy (I have a Trophy spoiler so needed the shorter Trophy/V6 struts). I now no longer have to balance the tailgate on my head! Result.
Decided the Yozzasport exhaust is a tad too loud for me as it is my daily car and I have a 30-40 min commute to and from work each day. Makes a lovely sound, but I wanted something quieter (as near to stock as possible), so ordered this...

A brand new Milltek resonated system (with central silencer). Also bought new genuine rear mounts, centre hanger, manifold to cat fitting kit and cat to centre section clamp.
Random picture of it having it's first proper clean...

And the first picture of it sat on my driveway where it was clean...

Then came the time to have the Milltek exhaust fitted by Mike at Rentech. Very happy with it, much quieter than the Yozza and the sound is just a tad sportier than stock which is exactly what I wanted.
Picture of it during fitting/aligning...

And all fitted and tightened up...


Whilst having the exhaust fitted, I also discovered it has Powerflex bushes for the dog bone mount which was a nice surprise as I didn't realise it had these and was something I would have done at some point in the future anyway.
Cheeky picture of the engine bay...

And I tried to get a picture at night to show the blue LED dash conversion and Sat Nav. This is the best picture I could get, gives you a bit of an idea...

Then last week, I bought a few bits for a general freshen up, consisting of:
Boot mat
Genuine Renault mats
Bosch aero front wipers
Genuine Renault rear wiper
Genuine Renault number plate lens with new LED bulb
Mist washer jets
Osram Diadem indicator bulbs for front and back
Osram Nightbreaker H7 (main beam) and 501 Cool Blue (sidelight) bulbs to match Xenons
Pictures of said parts...



Last edited: