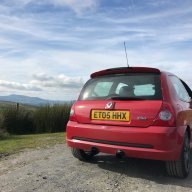 Joined

Nov 26, 2016
Messages

40
Reaction score

44
Location
Guys,
As per discussion in other threads, myself and a few friends made a trip to Wales, including copying a good portion of the Wales weekender route, last week.
Across the 5 of us there was an interesting mix of cars. This included my Trophy #116, an immaculate Honda S2000 and a Jaguar F-Type 400 sport – this meant we had FWD, RWD and AWD. People certainly didn't know what to expect when I said I'd be arriving in a Clio (I don't think they knew about the Trophy), but after the first day the comment I got from the guy in the F-Type was "bloody hell, that little Renault is fast!"
The route we took was an interesting mix of single track lanes (fortunately the car never grounded out, I think that would be a very different story in something like my TVR) and sweeping open A/B roads. Road surfaces were generally quite good and I think compared to my trip to Scotland a lot smoother in terms of subsidence etc. Scenery was absolutely amazing. As you can see from the map this included going through the Brecon Beacons and on the next leg of the trip a sampling of the Snowdonia National park. This included the Evo triangle which was a big tick in the box for me. Roads were relatively clear there, but a noticeable police presence. A few hairy moments with bikers trying ridiculous manoeuvres around blind corners but generally all good fun. Personally I think there were some better roads outside of the triangle, but all in all it's worth a visit just to say you've done it and of the total triangle there are some exceptional parts (others not so).
One thing I'd definitely recommend is a visit to the Yamaha off-road experience (
http://www.yamaha-offroad-experience.co.uk/
) The centre has access to hundreds of acres of woodland where you're set free on either 250 or 400cc offroad bikes. I was shocked by how fast even the 250s were and, aside from generally crapping yourself as you were going across loose rocks and down/up steep slopes I must say it was worth it alone for the beautiful scenery. A really memorable trip and I think you'd struggle to replicate it elsewhere in the UK.
Hotels, we went along the foodie route. Places of note were Pale Hall (
http://www.palehall.co.uk/
) and Llangoed Hall (
http://www.llangoedhall.co.uk/
) where we managed to get a bit of clay pigeon shooting in too, which was fun to do as a bit of pre-dinner activity.
Fantastic journey, one of the main things was how much fun the Trophy was to drive – it was totally in its element and stuck to the road like glue whilst being so connected and alive as a drive. I don't think I could have taken a more suited car for the trip.
Some photos below.
Cheers all!
Matt