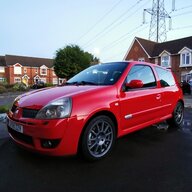 Joined

May 10, 2017
Messages

36
Reaction score

26
Location
Hi all, doing this a bit back to front as I've already made a few posts, but I'm actually new here. My name's Ian, Wiggy to my friends, like to think of myself as a bit of a petrolhead and just yesterday I bought myself a Trophy.

The first car I've owned worthy of mention was about 8 years ago: A 172 facelift in metallic red which I loved and only got rid of because it started to cost me in parts and repairs. Then came a Civic type-R EP3, followed by the other car I still own, an Impreza WRX blobeye. Neither of these cars can quite compete with the fun I had in the Clio, hence I've come back and got myself the ultimate version.

Really liking the community feel of the forum and imagine I'll be around quite a bit.

Wiggy.