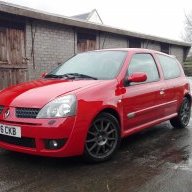 Joined

Dec 11, 2016
Messages

44
Reaction score

40
Location
My Trophy is going up for sale. We have enjoyed our time together but I just don't have the space to keep her now with my new daily driver and another 182 sitting on the drive as a project.
As far as up to date description, here goes;
Bought the Car December 2016 and had the following work done as it was coming out of approx 3 years in dry storage;
- Ignition leads & Spark Plugs
- 2 x Pirelli P-zero tyres
- Oil & filter change
- Wiper Blades
- Sachs dampers removed for overhaul & cup items fitted temporarily
- MOT - Minor advisory for windscreen chip <10mm & repaired
Mileage : 73637
£470
January 2017: Work Completed at RenTec Edinburgh;
- Timing Belt Kit, Alt belt kit, Dephaser, Water pump & Coolant
- 4 x Fuel Injectors
- Cam cover gasket change
Mileage : 73837
£960
April 2017 :
- Sachs dampers overhauled with new Standard shafts by Rik Perry
£400
June 2017 :
Work Completed at GSR Motorsport Glengarnock
- Sachs front dampers refitted
- New Cup rear dampers fitted
- Full set of Mark Fish springs fitted (£250)
- New ARB & Power steering bushes fitted
- Inner tie rods and track rod ends replaced
- Full 3D wheel allignment carried out
Mileage : 74740
£400
December 2017
Service & MOT at Burnhouse Motorsport - Glengarnock
- Oil & Filter Change
- MOT - No advisories
Mileage : 76073
Current Mileage -
76178
I fitted a new front splitter last week so the car is looking more standard again.
Paintwork is in generally good condition for its age, down the near side if you get right up close to the car it's had a slight overspray from somewhere in the past, this would come out with a good Clay bar and polish I think.
The door handles are going a bit pink as they do...
The headlights are slightly hazed, i gave them a rub back and polish last year and they came up quite well really.
Two minor car park marks that you can see if you get up close and look down the line of the car.
Wheels are in fairly good condition, they had some marks on them when I got the car and the next thing on the list was to get them refurbed - was quoted £180 for the set locally but I've not done them.
A/C doesn't work, I only tried it last week out of interest as I never tend to us it in any of my cars, I've just deleted it off my Subaru. Could just need gas but couldn't say for sure.
As you can see there has been no expense spared since I bought the car and it had been my plan to keep it tucked up as an investment. However my itch to modify it and take it on track has become too much so i bought another (much cheaper) 182 for that purpose. On top of the Subaru that I just imported as my daily driver and other expenses I could really do with freeing up the cash that's in it.
I'm looking for

£7950 ovno

which I don't believe to be unreasonable considering prices I've seen recently. Ultimately not in a desperate rush to sell so I can wait for the right buyer. Any Questions just PM me. I'll be getting other adverts together but this is the first place I'm advertising. Thanks for looking!

Please see below most up to date pictures, interior pics to follow up as soon as I get round to giving it a quick clean inside, however inside is immaculate with exception of the steering wheel which is showing signs of age.