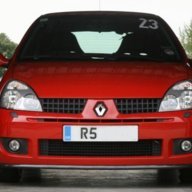 Joined

May 18, 2006
Messages

6,307
Reaction score

33
Location
As I am in need of a new turini, due to a particularly aggressive pot hole, akin to a swimming pool, I will be hunting down one.

I'm told by contact at Speedline UK that Renault hold the license for our spec of the wheel - ET45 and centre bore specific. So even for a large order (where they would need to tool up the factory) they cannot supply without Renault's authorisation.

Given I've heard Renaul's stock has completely run out, I'm going to do some digging within Renault's supply chain before hitting Speedline Italy's to see how many of these spec wheels are in circulation and if they can be reproduced.

What interest in a Group Buy would there be, should I be able to make this work?