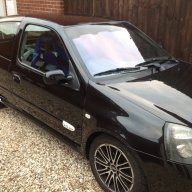 Joined

May 5, 2017
Messages

4
Reaction score

4
I was not happy to pay for the carbon ones so I made a pair of these for my track car which I have fitted (see photos below) and I had to learn the hard way, research all the parts and work out where to drill all the holes, where the window switches go to not hit the glass, also I wanted to reach the window and mirror controls whilst in a harness. All this is painful and not the easiest. These are made from 3mm plastic and look really good and are a cheaper alternative to carbon. The basic front door card and price starts from
£40 delivered
(bargain just £20 a door)
or specify your options and I'll do the hard work for you!!
As I have sold a few doorcards with very good feedback, Cliosport.net asked if I would like to join the traders team so here I am. These doorcards can replace OEM standard door cards and maintain full OEM functionality - I am happy to make them to your specification.


So simply just choose from the options and extras below
Front Doors Cards Options
1. Supply basic Door Cards Delivered with no cut outs
(£40 Delivered)
2. Cut Holes for the standard door opening handles (the standard one) –
(£45 Delivered includes option 1)
3. Supply and mount the very neat door pull covers in the right place on the door card
(£65 Delivered includes options 1&2)
4. Drill pilot holes around the outside of the panel in the right places to mount the card on the door
(£70 Delivered includes options 1, 2 &3)
Extras (a, b, c, d, e)
a)
Supply and mount the modified electric window switches (I need to buy both switch holders, modify, cut it and mount in the door card panels. This is a time consuming job and tricky but saves you changing any wiring on the car
(£50)
b)
Drill holes for electric mirrors switch (drivers panel)
(£3)
c)
Supply the fasteners to mount the door card on the car, total of 10 fasteners per door. These are not the cheapest but they are much better the screws as they expand as you screw them in so you can take off the door cards with ease and they do not rattle
(£12)
which is worth it at only £6 per door (Stainless Steel Fasteners).


d)
Supply the "door pulls" selection from £5 per side (choice of colours), £8 per side (motamec) to £12.50 (sablet) per door
(£10 to 25)
– this is at cost price



e)
Rear cards – Plain £20 or £35 (inc pilot holes and fasteners for the rear), if ordered on their own there is an additional £10 postage

Costs in Summary
Full Fronts Door Cards - (Option 4 with a, b, c, d inc cheapest door pulls)
I offer a 10% discount
– It would be £145 but for a full set it is £130 + Paypal fees or gift. Also I will provide you a step by step instructions (with colour photos see below) for fitting the front ones.
Rears Cards
- It is an additional £35 (inc pilot holes and fasteners for the rear) if ordered on their own there is an additional £10 postage.
So select option 1 to 4 and then add on your extras a, b, c, d and e to your requirements or order a full set and get the 10% discount.
Cheers
Simon (any questions just message me)
Instructions

Some of the card doors (my first orders )
Options 1,2,3 and 4 and extra A, B, C, D and E in picture below

Options 1, 2, 3 and 4 with no extras (picture below)