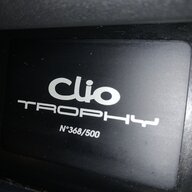 Joined

Jan 27, 2012
Messages

150
Reaction score

62
Location
Trophy No.
Regrettably, my RenaultSport Clio 182 Trophy is up for sale.
** Just to be clear, I really do not want to have to do this, but personal circumstances which I would rather not go into on a public forum, mean I unfortunately have to part with my pride and joy. Not interested in P/X or swaps, as sadly my circumstances mean I will not be replacing the Trophy with another car **
BK55 ZRR
Capsicum Red
#368
69,700 miles
MOT Expiry: 27th October 2020 (will put a new MOT on prior to sale)
Full Service History
HPI Clear
Both Keys Present (2)
5 Previous Owners
I bought this Trophy at the beginning of 2020, in pretty much completely standard specification.
The engine was completely rebuilt under instruction of the previous owner in June 2019 at 64,120 miles. This was a comprehensive rebuild at great expense, fully documented in the huge history folder for this car.
Belts & Dephaser were last done in April 2019 (at 64,120 miles) as part of the engine rebuild.
I have since had Group N Timing carried out by Alex at AW Motorworks (July 2020) and a remap by Engine Dynamics, resulting in a healthy 188.9bhp & 170.8 lb/ft with dyno printout.
Most recent oil and filter service was carried out by AW Motorworks in May 2020 at 66,156 miles – this included genuine oil filter, Mishimoto magnetic sump plug and Millers 5w40 CFS NT+ engine oil.
I have also carried out a lot of work and fitted a lot of modified parts over the last 6-9 months. All parts listed under the "Full Specification" section below were bought new and fitted within this period.
Here is a link to my project thread, which documents everything I have done to this car during my ownership in great detail:
https://cliosport.net/threads/ash's-clio-182-trophy.830295/
Service History:-
13/11/06 – 11,312 miles
10/03/08 – 23,427 miles (Cambelt)
14/09/09 – 37,200 miles
15/11/10 – 47,232 miles
15/08/12 – 55,734 miles
03/11/14 – 57k miles – Full Major Service + Cambelt
14/02/15 – 58,200 miles – incl. Gearbox Oil
16/01/16 – 60,300 miles – incl. Air Con Regas
05/02/17 – 61,688 miles
04/03/18 – 62,750 miles – Major Service + Cambelt/Dephaser
17/04/19 – 64,120 miles – Engine Rebuild incl. Cambelt/Dephaser + New Valeo Clutch Kit
24/05/20 – 66,156 miles – Engine Oil (Millers) & Gearbox Oil (Redline MTL)
New genuine Valeo air con condenser in March 2018 (62,750 miles).
New genuine Valeo alternator & Bosch battery in December 2019 (65,200 miles).
Engine Rebuild Details (from previous owner):-
Pictures of rebuild are documented in history folder.
The engine was removed and then had the following work carried out:
Full strip down and clean
Block acid dipped, decked and honed
Crank reground with new king bearings (mains and big ends)
New thrust washers
New oil pump and chain kit
New pistons and rings
A replacement set of 182 cams
Fully refurbished cylinder head
New valve guides
New main crank bolts and uprated ARP conrod bolts
New seals, gaskets and bolts throughout
New cam belt kit with dephaser pully
New water pump
Fully painted and cleaned block, rocker cover, breather plate and sump
Keyed Megane bottom pulley
Run in on Millers running in oil
Uprated ARP con rod bolts and a keyed Megane bottom pulley were fitted for reliability.
New genuine Valeo clutch kit also fitted (although original was fine).
Engine bay cleaned and waxed before refitting by Paul Clarke (Renault Specialist).
Only genuine Renault parts were used and they were supplied by
K-Tec Racing Ltd
at a very competitive price.
Engine reassembly done by K-tec racing and to a very high standard.
Engine removal, refitting and running in done by
Paul Clarke
(Renault Specialist).
Block machining, crank regrind was carried out by D-Y Engine Services as well as supplying the new king bearings.
Project management, engine disassembly, cleaning, painting and cylinder head refurbishment by M.S. Custom Engineering.
Engine run in for 500 Miles by Paul Clarke with instructions from K-TEC on running in process to ensure 12k / 1 year warranty on the engine.
Basically an ORIGINAL engine with all matching numbers (confirmed by M.S. Custom Engineering).
Full specification:-
INTERIOR
Recaro Pole Position Seats (2 months old)
Recaro Alloy Side Mounts, Recaro Double Locking Runners
Jon Foz X-Low Seat Subframes
Red Front Seat Belts
PMS Shifter
New Pedals
Rear Seats & Belts Delete (parts included)
Custom Boot Mat
Custom Trophy Engraved Floor Mats
8mm Steering Column Spacers
Intermittent Wiper Stalk Upgrade
Genuine Carbon Dash Trims
K-Brace in Red
Black Dial Surround (from Clio dCi)
Brand New Heater Control Panel  
EXTERIOR
Front & Rear Bumpers, Bonnet, Door Handles Resprayed (6 months ago)
New Genuine Hella Black Insert Halogen Headlights
New Front Grille & Slam Panel Stickers
New Genuine Valeo Fog Lights
Mist Washer Jets
Custom Door Bullets (Anthracite with Trophy Script in Red)
New style "RS" Rear Badge
New Front Renault Badge
Stubby Aerial
3/4 Front Plate  
WHEELS/TYRES
Speedline 2118 15x7 ET43 Anthracite Wheels (6 months old, immaculate)
4 x Nankang NS2-R 195/50/15 Tyres
PMS 18mm Front Hubcentric Spacers
PMS 10mm Rear Stub Axle Spacers
Black TPI Wheel Bolts
ENGINE/TRANSMISSION
Fully Rebuilt Engine (@ 64k)
Fully Refurbished Gearbox by Northloopcup (fitted with Redline MTL Gearbox Oil)
New Genuine Driveshafts
New SNR Front Wheel Bearings
PMS Lightweight Flywheel
New Genuine Valeo Clutch Kit
New Genuine Renault Clutch Cable
KTR Engine & Gearbox Mounts
PhilipM Honeycomb Dog Bone Mount
KTR Induction Kit (Red Hose)
Ported & Flowed Inlets & Throttle Body in Anthracite (M.S. Custom)
Forge Silicone Coolant Hoses (Black)
Magnecor Red Ignition Leads
ARP Con Rod Bolts
Megane Keyed Pulley
Various New Bolts/Parts (Slam Panel, Fuse Box, Battery Terminal Cover etc)
Group N Timing
Remap by Engine Dynamics (188.9 bhp / 170.8 lb/ft)  
BRAKES
Renaultsport Clio 197/200 Brembo Calipers (Red)
PMS 280mm Brembo Caliper Brackets & Fitting Kit
PMS/KTR Braided Brake Hoses (Front/Rear)
Godspeed 280mm J Hook Front Discs
Godspeed J Hook Rear Discs with Bearings
EBC RP-1 Stainless Front Pads
New OE Brembo Rear Pads
Motul RBF Brake Fluid
New Pagid Handbrake Cables
Powdercoated Rear Caliper Carriers (Red)
SUSPENSION/CHASSIS
BC Racing DS Coilovers with Double Digressive Valves (supplied by Mark Fish)
BC Racing Solid Adjustable Top Mounts
New Genuine Renault Wishbones with Ball Joints
New Genuine Renault Inner Tie Rods
PMS Bump Steer Correction Kit
PMS Rear Anti Roll Bar
PMS 10mm Stub Axle Spacers
PMS 1 Degree Rear Camber Shims
Whiteline Rear Axle Bushes
Powerflex Inner & Outer Front ARB Bushes (Black)
Powerflex Steering Rack Bushes (Black)  
EXHAUST
PMS Decat
PMS Cat-Back Exhaust System with 3" Slash Cut Tips
Pro-AM Racing Stainless Exhaust Hanger Mounts
New Mounts/Hangers/Clamps
95% of parts listed above under "Full Specification" were purchased brand new and fitted to the car within the last 6 months.