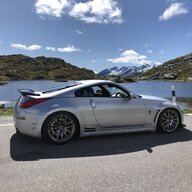 Joined

Dec 29, 2020
Messages

222
Reaction score

271
Location
Trophy No.
I cut my teeth on the BG which I enjoyed,learned a lot, spent a lot and got a fair price considering the outlay on Collecting Cars which gave me some funds to buy Trophy #151 and get her to a condition that I'm happy with.
The down side of all this is I like tinkering and I've been itching for another project for some months.
Classics such as TR6,MGB etc interest me but the thought of a 50 year old car which looks shiny on the outside but is as corroded as the titanic underneath fills me with dread!
So I came to conclusion that it's best to stick to what you know. I also have discovered that for some unknown reason all the best Clio's seem to be up North.
Living in Bournemouth I could not believe it when the BG was a 4 1/2 hour drive away in Kings Lynn Norfolk and then the Trophy lived in Warrington which incredibly is where the BG ended up with the new owner a few weeks later!
Well it gets worse for poor AJ the southerner who finds a great car 45mins drive north of Glasgow.
I set off on foot at 6.30am yesterday morning to my local station,catch a train to Southampton airport, got on a flight to Glasgow and was collected by the owner.
Many thanks to Craig, his partner and his patrol head Dad who made me feel incredibly welcome after my long journey to potentially buy a car so far away on the strength of photos an documents.
I took this picture when I first arrived, took her out for a test drive and the deal was done.
550 miles later and a quick wash I put her to bed next to the T.
Meet my new evening weekend runaround.