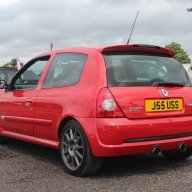 Joined

Oct 13, 2011
Messages

70
Reaction score

4
Location










HK05 BWP
2005 Renaultsport Clio 182 Trophy
041/500
4 previous owners (includng myself)
128498 miles
MOT until 28/8/19
2 keys included
I never thought I would do this but due to a change in circumstances I've decided to put my 182 Trophy up for sale.
The car has been my daily driver for the past 7.5 years and it has been an absolute pleasure from start to finish. In addition to this I've taken it all around Europe, as far as Switzerland and Italy and it performed faultlessly on all 3 trips away.
The spec is as follows:
-OEM Sachs remote reservoir front dampers (recently refurbed by Cornering Force)
-Eibach camber bolts (front)
-Koni adjustable rear dampers with lifetime warranty (1 recently replaced under warranty)
-Eibach Sportline springs (OEM yellow Eibach Proline springs also included - rears were discarded sorry)
-Genuine Renault stamped Brembo 4-pot Megane front calipers with 300mm -Brembo discs, Brembo pads, Pure Motorsport brackets, braided lines all round
-172 Cup Turinis (wider offset to accomodate the big brakes) powder coated in grey
-TPI Polarised wheel bolts (including locking nuts + key)
-5mm spacers all round
-Uniroyal Rainsport tyres (front)
-Pirelli Pzero Nero tyres (rear)
-PH1 172 airbox with Pipercross filter
-Custom stainless steel cat-back exhaust with 3" outward rolled tips and a mid-sport note (subtle but got some grunt) made by Prospeed (Cardiff) with lifetime warranty. 182 standard sports cat sleeved by them for a proper join to stop blowing through the standard olive join gap (common problem)
-Richbrook slant gearknob (a la Swiss made Trophy models)
-Custom retrimmed steering wheel by snappy (if you know, you know) with red TDC marker, red stitching, perforated leather thumb grips and Trophy stitching to the alcantara bottom
-Gear gaiter in black leather with red stitching to match steering wheel
-Alcantara A-pillars + handbrake cover
-New genuine Renault Hella headlights (no hazing at all!) with Osram Nightbraker Plus bulbs fitted
-Clio 197 style Renaultsport badge fitted to rear + accompanying lutécia badge to replace Clio (I like to be diffferent!)
-4x recently replaced OEM injectors
-Recently replaced pinking sensor, coolant temp sensor + thermostat
Recently I could hear a slight knock from the N/S/F corner, so naturally I recently had the following on both sides replaced:
-Steering rack bushes
-Front wishbones
-Track rod ends
-Track rods
-Anti roll bar bushes
-New track rod end nuts fitted
-Both Sachs front dampers refurbed and dyno checked by Cornering Force
-Front top mounts (for the old style, no knocking type ones rather than the new poor OEM design)
-OEM discs and Brembo pads all round with new pins and anti-squel shims
-One of the rear dampers was replaced under warranty at the start of this year
Needless to say the noise is no longer there! All that needs doing to complete the above is the tracking, but I haven't done this myself as the car is off the road and also the new owner can get it done with their own preferental settings.
The car has tonnes of receipts and invoices, and a stamped history up until 2011 and was serviced by the same mechanic (I don't trust many people with my cars!) ever since. However that is now redundant as this car benefits from a professional engine rebuild by Engine Dynamics Renault Specialists which was done in November 2016.
The engine rebuild consisted off the following:
-Engine stripped down, inspected and chemically cleaned all items before the build
-Piston rings replaced
-MLS head gasket + seal set
-Hydraulic lifter set
-Head bolt set
-Lower engine gasket + seal set
-Arp Con-Rod bolts
-Crankshaft main bearing set
-Crankshaft big end bearing set
-Crankshaft thrust washers
-Timing belt kit
-Oil pump
-Water pump
-Spark plug set
-Aux belt kit
-Painted in silver to give an OEM finish
In addition to the above I chose to have fitted at the same time:
-Uprated stainless steel forged valves (Supertech)
-New OEM clutch
-Piper camshafts (270 profile)
-Custom ECU map to suit (Engine Dynamics are renowned for their mapping)
-Rebuilt gearbox
Everything above was done in one (at a cost of over £3500) and it has been absolutely fine ever since. A running in period of 1000 miles was observed. The car was always one of the quicker examples and now with the cams uprated this is still the case. It definitely has a lot of grunt!
Every advisory on an MOT has always been rectified as soon as possible. The last one only showed a leaking CV boot so this was replaced the week after.
Not so good bits:
-The door handles have gone pink (always happens on Trophys unfortunately!)
-There are various stone chips on the front end. These are age related and hard to capture in photos but I must say this is definitely not a show and shine example!
-Small dent in bonnet (was there when I bought it - never bothered me)
-Two small dents to N/S side - these will be able to be removed but never bothered me enough to get them done. One is in the door and one in the rear quarter where another door must have hit it
-Rear bumper has a few small marks on it - nothing major
-Front O/S wing has scuffs where a van cut me up (almost literally)
-Front bumper would benefit from a respray. There are slight scuffs (pictured) and various stone chips
-Heater panel has shed a load of its coating. This happens on all Clios with the dial-type controls unfortunately!
-Air-con hasn't worked for the past couple of years - I've not looked into this but there's no damage to any of the system that I can see. It's never been re-gassed in my ownership so could be a simple fix
-Rips in driver's Recaro bolster. They were there when I bought the car and haven't got any worse (never bothered me)
I will be sad to see a car that has given me so much joy and good times over the past 7+ years go, however I already have a replacement car so this is being kept in my garage not moving which I feel is even more of a shame. It just loves being driven!
Smoke + pet free owner. No test drives without insurance (proof will be needed).
I lead a very busy life so unfortunately don't have time for timewasters or stupidly low offers/messers.
However if there are any questions or any further pictures required then please don't hesitate to get in touch.